City is the second album by Canadian extreme metal band Strapping Young Lad. It was released on February 11, 1997. The album was re-released in 2007 with several bonus tracks and revamped cover art.
The album, an emotional counterpart to Townsend's solo album Ocean Machine: Biomech released the same year,[1] is critically acclaimed, with Revolver magazine naming it one of "the greatest metal albums of all time"[2], and it is widely considered SYL's best work.
Background
[
]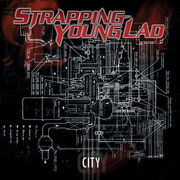 After releasing the first Strapping Young Lad album, Heavy as a Really Heavy Thing, as a solo album, Townsend assembled a permanent lineup of SYL to record City, including prolific drummer Gene Hoglan (ex-Death, Dark Angel) and Townsend's former bandmates Jed Simon on guitar and Byron Stroud on bass. This lineup remained until the group was disbanded following The New Black tour in 2006.
Devin moved to the UK to work with The Wildhearts before moving back to Vancouver to work at a restaurant. He then decided to move to LA and "move in with some mutual friends" where he "slept on their couch and wrote Ocean Machine and City. [1] The albums were written about life in the city of Los Angeles.[1]
City was remastered and re-released in 2007, and included several rare bonus tracks and the video for "Detox." The album was re-released in 2012 including a CD version of For Those Aboot to Rock as a bonus disc. Teddy Möller (credited as "Septic Ted") from Loch Vostok appears as a guest saxophonist on the joke-track "Headrhoid."[3]
Japanese bonus track "Centipede" is featured on all versions of No Sleep 'till Bedtime, and samples a percussion loop from "Happiness in Slavery" by Nine Inch Nails.
Reception
[
]
City received highly positive reviews. Kerrang! praised the album for its heaviness, claiming it sounded like "sticking your head into the jet nozzle of a Stealth Bomber",[4] while Metal Hammer ranked it No. 13 on its "Top 20 Albums of 1997" list.[5] The album gained a cult following and a loyal fan base for the band.[6] City is considered to be the band's best effort by a large number of fans[7] and critics alike.[8][9]
In 2002, the album was No. 45 on Revolver magazine's "69 Greatest Metal Albums of All Time" list,[2] and was on their "Must Have Metal Albums" list in 2005.[6] It also appeared on the "100 Most Important Albums of the Nineties" list conducted by Terrorizer magazine.[10] Townsend himself stated City "is the real Strapping record. That's the ultimate one out of all of them".[11] City sold over 9,000 copies its first week.[12] The song "Oh My Fucking God" was later covered by fellow Canadian extreme metal band Cryptopsy for a compilation album by Century Media.[13]
City was very well received by the public. On Rate Your Music, the album has an average rating of 3.85 of 5, based on more than 1,100 ratings,[14] and on Sputnikmusic, the album has a "superb" average rating of 4.4 of 5, based on more than 1,050 ratings.[15]
Liner notes
[
]
Note: This text appears in the 2007 reissue.
So City... well this record was a doozy. After Heavy as a Really Heavy Thing, I kind of lost my sense of humor, which is ironic and appropriate at the same time. I remember that after having all the experiences with Vai and The Wildhearts, my career came to a dead stop. "Heavy..." hadn't really lit up the charts, and that left me with some pretty bleak options. I had gotten a job at a pasta place washing dishes again, and I found myself angry at circumstances and still young enough to have ants in my pants. I remember Borivoj [Krgin - at the time Century Media's A+R] sending me the sales reports for Heavy..., in which it stated that I had sold 114 copies of it in the 2 years since it had been out in the States. The fax had read at the top, "Dick, check out these whopping sales..." Thanks pal.

So life in Vancouver stunk. I had ostracized myself from friends, was working in some shit-ass pasta restaurant, had no money, no band and my prospects were pretty poor. So I decided to head back to LA to see what I could see. Bori and Ula [Gehret - at the time CM's publicist] were roommates at the time, and they asked me if I wanted to stay with them when I was down, to which I readily agreed... and having no money, [Century Media owners] Robert and Oliver let me work in the Century Media mail room stuffing envelopes and assembling discs (a ton of Trouble's Plastic Green Head and a band called Chum). I did a promo video for CM, as well as some pictures for their first website, so thanks again guys... the money was helpful. I started writing music on an ESP explorer while taking up residence on Ula's and Bori's couch, some heavy, some mellow... The mellow stuff ended up as Ocean Machine, and the heavy stuff ended up as City. I ran my effects processor through Ula's TV, and recorded my demos onto cassette. I was listening to Morbid Angel's Domination, Shihad's first record, Cop Shoot Cop's White Noise and Ask Questions Later, Gash by Foetus and a record from OLD called Formula. Every day was an exercise in pounding out the music when I wasn't working at CM, waiting for Ula to come home at about midnight. That's when I would finally take a break and the two of us would drink Vodka and watch Mystery Science Theater 3000 until 2 in the morning. I was on a writing streak and was broke and angry. I remember that I ate nothing but spaghetti noodles and margarine for 4 days before Ula took pity and bought me some food. The apartment was right by the beach, so I would take breaks and wander through the sands in Marina Del Rey and think about lyrics and such... ahhh, nostalgia.

SYL version one hadn't gone so well. We did one shitty "tour" that I poorly set up, which consisted of 3 shows and ended in me losing our money at a phone booth and us playing 4 more local shows in Vancouver and then ending it. Adrian [White - drums] and Jed went on to play with Frontline Assembly and Ash [Ashley Scribner - bass] and Mike [Sudar - guitar] and myself drifted apart. So, in LA, I needed a drummer. I had demo'd all the songs for City by this time on my Atari 1040 and a drum machine and was "in the market" so to speak for a drummer. One night, Fear Factory came to the Palace opening for Iron Maiden (with Blaze), and the option to go came up. I went in a foul mood and started drinking as soon as I arrived. I saw this guy walk in with dark glasses, a cane and gleaming white running shoes... I remember thinking to myself, "Wow, that's a big dude!" I knew Gene from his work on Death's Individual Thought Patterns but was not too familiar with Dark Angel or his other stuff. He had shown up with a mutual friend who came to me later and said, "Hey, I'm here with Gene, and he really liked the first SYL album and he'd like to meet you." It was strange that someone actually had heard that record in the first place, and I was pretty lit up, so I followed our buddy back and walked up to Gene and said, "I hear you liked the first SYL album... wanna play on the new one?" Gene was also pretty hammered, and a little shocked, and said, "Sure... my name's Gene by the way". So I gave him demos and got his number and phoned him the next day, where it was revealed that he didn't remember the conversation. I held him to his word, though, and we set up a jam for the following week. I phoned Byron and Jed, sent them demos and had them fly to LA for the rehearsal, and when we played the first thing - a cover of SYL from Heavy as a Really Heavy Thing, we knew we had something cool. It was loud, fast, ugly and brash... kind of like us.

We set up to record in LA at Steve Vai's Mothership studio. There was a certain irony to that which was cool. Since I had just finished producing Stuck Mojo's Pigwalk with Daniel Bergstrand (Meshuggah), I convinced him to help with the record. So we tracked drums and guitars at Mothership, and then I took the tapes home to do overdubs in Vancouver. I then flew to Uppsala, Sweden to mix with Daniel at Dug Out studios. Daniel did an amazing job with the adats and the mix went well. One thing, the toilet at the studio was outside in a portable trailer, so Daniel and I decided to not flush it for the two weeks we were there. Every morning, we would both shit in this hellish toilet, which we called the Superbowl, and we filled that fucker up... by the time the mix was finished, we backed the sewers up and the whole block smelled like shit. (There's a photo of the Superbowl in the inside of the first Zimmers Hole CD).

We mastered the record at the Cutting Room in Sweden, and we took band photos in LA. I had a buddy take photos of downtown Tokyo for the layout (as I was pretty into Manga and a comic called The Dirty Pair at the time), and we put this beast out in 1997. We toured a lot for this record, with trips to Japan, Australia, festivals in Europe and a bunch of North American tours. This version of SYL is the definitive one, and this record was our defining record. Never again did we achieve the combination of elements that made this what it was. ALL HAIL THE NEW FLESH!

Devin Townsend
Note: This text appears in The Complete Works vinyl box set:
I returned from the UK in a confused and hostile frame-of-mind. My period with Steve Vai had left me with disdain for the music industry, and my time with the Wildhearts left me with many questions and much anger. Side projects with Jason Newsted (among others) failed to live up to my own expectations. The first SYL record sold very poorly, and adrian moved on with Frontline Assembly. We had one jam of the City material that wasn't very successful, and I felt it was time to move away again from Vancouver to seek new musical opportunities. I was infatuated with the ugly nature and relative inconspicuousness of cities and thought the quasi-industrial wasteland of Los Angeles would be a good place for inspiration. I moved in with a few friends in Marina Del Rey and began writing. I felt compelled by certain albums at the time - including "Domination" by Morbid Angel, "Gash" by Foetus, as well as Old Lady Drivers' "Formula", and Cop Shoot Cop albums. I worked occasionally at Century Media, filling orders in the mail room, and mostly focused on writing a series of much darker SYL songs. I finished the new album and had full demos when I met Gene Hoglan at a show in Hollywood. When he told me he liked the first album, I rooked him into doing City. He hadn't played in months and was unfamiliar with blasting, so we were a little rough out the gate (the demos were very specific). About three days into rehearsal, I realized what an incredible talent he was. In the end, we recorded together at Steve Vai's studio in Hollywood, and I invited my old friends - Byron and Jed - down to LA to join on the recording for a more "band-like" experience. We ultimately got on well, and this first recording collaboration was the genesis of what we became as an entity.
Track listing
[
]
All songs written by Devin Townsend except as noted.
"Velvet Kevorkian" (1:17)
"All Hail the New Flesh" (5:24)
"Oh My Fucking God" (3:34)
"Detox" (5:37)
"Home Nucleonics" (2:31)
"AAA" (5:21)
"Underneath the Waves" (3:40)
"Room 429 (Cop Shoot Cop cover)" (5:21) [Tod Ashley]
"Spirituality" (6:34)
2007 remaster bonus tracks

"Centipede" (7:55)
"Home Nucleonics (1996 demo)" (3:02)
"Headrhoid (Gunt demo)" (1:38)
"Detox (1996 demo)" (5:48)
"AAA (1996 demo)" (5:22)
Personnel
[
]
Strapping Young Lad
[
]
Additional musicians
[
]
Chris Valagao

– vocals
Tanya Evans – vocals
The Cruxfrog Choir
[
]
Val (Chris Valago), Stoolie B. Flames (Byron Stroud), The Tower, Pete "this beer reminds me of the beaches in Portugal" Maia
Additional personnel
[
]
Daniel Bergstrand – engineering, mix engineering
Danne the Manne (Daniel Bergstrand) – additional production
Mercello Gomes – assistant engineering
Steve Good – assistant engineering
Matteo Caratozzolo – recording engineering
The Tower – second recording engineering
Steve Good – studio coordination
Mc2 – editing
Lulu Devine (Devin Townsend) – editing
Adrian White – additional drum arrangements on "AAA"
Strapping Young Lad – additional arrangements
Masa Noda – photography
Dan Collins – photography
References
[
]
↑ Sheils, Liam. "Strapping Young Lad - City". Kerrang!. February 1, 1997, Iss. 633.
↑ "Top 20 Albums of 1997". Metal Hammer. December 1997.
↑ "100 Most Important Albums of the Nineties". Terrorizer. February 2000, Iss. 75.
External Links
[
]